Season's Greetings!
The staff of Russell T. Rudy Energy, LLC, and Imperial Oil Company gathered at Del Frisco's Steak House in the Galleria area of Houston to celebrate 2016 and the holidays.  While this year has been eventful to say the least, with $50 oil and $3.50 natural gas, it is ending on a positive note.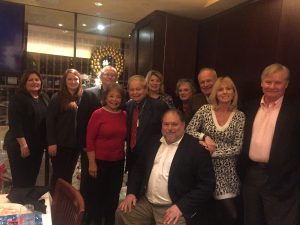 Our team, from left to right, Mary Alice McDonald, Meghan Jones, George Webb, Carmen Egan, Ellis Rudy, Suzanne White, Russell T. Rudy, Becky Green, Harold Inman, Susan Miller, and John Pepper.
We hope this is just an indication of better times ahead and that 2017 is full of unprecedented success for you and yours.  Thank you for your support and Happy Holidays!